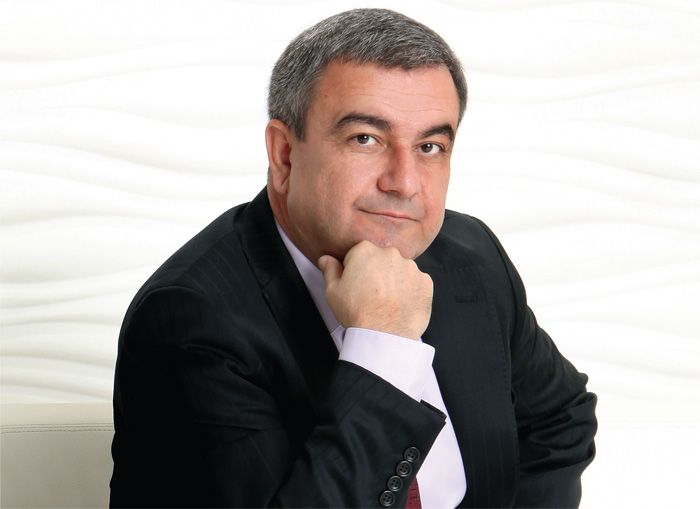 The most cunning of the Armenians, Sirak Samvelovich Muradyan
They wait for the promised person for 3 years, but on the fourth they refuse

.

Former employees of Al Khalidiah Tourizm have been waiting for the return of their salary debt for the second year. And the amounts there are cheap. Boss Al Khalidiah Sirak Samvelovich personally promised before the coronavirus crisis that as soon as things get better, the salary debt will be paid. 

But it turns out he deceived, so we have every right to call him a liar. And also possibly a thief? because It turns out that he embezzled our money. How do you think? 


As an edification to descendants and with the hope that this site will be able to solve the problem of non-payment of salary debt, we created it because Unfortunately, we have no other levers. On this site we will concentrate all the negativity from publicly available sources about the Al Khalidiah company. Stay tuned. 


If you are an employee of the company and you have also not been paid your salary, write 

info@al-khalidiah.ru

 and leave comments.
update 28.05.2021
After the publication of the site, 2 weeks have passed and the situation with the salary has unfortunately not been resolved.
Al Khalidiah's comments were received: 


1. That we have no conscience. 

Sirak Samvelovich "fed everyone, watered everyone and gave housing to everyone in need during the pandemic.", And you still demand a salary from him, where is your conscience? 


2. They don't owe anything, they didn't promise anything, they will take the toughest measures and we will answer before the law. 


The most interesting thing is that Alkhalidia does not deny that everyone was paid only half their salary. This already seems to prove it. That is, they say, yes, they should, but they didn't promise anything, so screw you. 


What outrages us most is the denial of the fact of the promise personally by Sirak Samvelovich. Perhaps he forgot? But his deputy Dinara also doesn't remember anything. We are really looking forward to the promised appeal to the court to restore their memory. We have significant evidence and we hasten to warn Alkhalidia that they will have to answer before the law. 


Sirak Samvelovich, do you think it's normal to lie to the whole team that debts will be paid? And you'll also be surprised how they don't believe you. But the team has heard a lot and already knows that in Alkhalidia this is the norm and most likely you will be deceived. As a result, I was deceived. Why aren't you responsible for your words? Aren't you ashamed in front of your team? They know the truth. I understand that this has been the company's long-term practice of screwing people over, but something needs to change, these are not the times. And you are behaving like a petty swindler. And if you are such a good businessman, you already pay your salary on time, why do you constantly delay it and people have to beg for it, wondering whether it will be today or not. You are responsible for the employees, they may have problems because of this, and your problems should not interest them. Being a worker, what killed me the most was some kind of collective farm. We are not promoting this site on purpose yet, because of the respect for the management of the Al Khalidiah company that has not yet been completely lost. In general, it's not bad there, if only they paid the salary on time and didn't cheat on the salary, it would be absolutely wonderful.

update 03.07.2021
Comments from Space Travel CEO Artur Muradyan have been received. 

Since they can be perceived as a threat, we cannot help but voice them. 

Tough of course. 




And they are still fighting for the honorary title of a house of high culture of life.
To understand, the approximate total amount of Alkhalidia's debt to former employees is about 500 thousand rubles. We understand that this is a huge amount for Alkhalidia, so we are ready to provide installments for 5 years at reasonable interest rates.
update 24.09.2021
We congratulate the management of Alkhalidia tourism on the start of the new tourist season in the UAE and the imminent opening of Expo 2020. We wish them to finally earn enough money for themselves so that the situations described on the site do not repeat themselves. Although there is an opinion that without the second the first will not work.
At first it seemed that their conscience might surface, or they might feel ashamed if they publicly voiced the problem. But it seemed that it seemed.
update 17.11.2021
Russian Sirak Muradyan received a "golden" UAE visa
Well-known in narrow circles of the United Arab Emirates, Russian Sirak Muradyan, one of the leaders of the local hotel industry, received a "golden" visa from the state.
The visa was issued with the support of the Emirate of Ras Al Khaimah and its ruler, Sheikh Saud bin Saqr Al Qasimi, a member of the UAE Supreme Union Council. Sirak Muradyan was awarded a "golden" UAE resident visa for "long and impeccable work in the field of tourism, great contribution to the development of tourism activities, high-quality customer service and active work on creating a hospitality infrastructure."
"We highly appreciate this award. This is more than significant confirmation of the financial reliability and stability of Al Khalidiah Tourism and Space Travel on the part of the UAE government agencies ," said Arthur Muradyan, CEO of the tour operator Space Travel, son of Sirak Muradyan.
PS. It is worth noting that there is nothing particularly outstanding about this. More than 65,000 people, perhaps more deserving ones, have already received the UAE Golden Visa. In the UAE, nurses were automatically issued golden visas.
update 03.08.2022
Khiryi says that holidays in the UAE this winter may rise in price by 30%
Holidays in Dubai in the winter season will rise in price by 10-30%, in other emirates prices are also expected to rise, although not as significant, said the cunning president of the Al Khalidiah Tourism group of companies Sirak Muradyan. High hotel occupancy is predicted due to rising demand.
PS. Let's assume that someone is planning to make a lot of money.
update 21.11.2022
Unfortunately, we did not have time to renew the khalidiah.ru domain, as a result the Space Travel company intercepted it from us and registered it for ourselves. We are not discouraged, there are still many domains, meet us at al-khalidiah.ru .
update 15.03.2023
Celebrating our 3rd anniversary! Unfortunately, the Alkhalidia company, or rather the management, has not wised up during this time. There was an attempt on their part, but all the same during the negotiations they wanted not to pay one of us. One — Karl. At least one, but throw it. Of course, we didn't agree to this. Now we don't even hope, but we will continue to entertain you with their content.
Let another year pass and we will play the trump card that we wanted to save for an emergency, but it did not come.
We have an audio recording where Sirak Samvelovich speaks to the team in the UAE and directly swears that he is honest and everyone who was fired before the coronavirus crisis will be paid the second half of their salary as soon as things get better for the company. And it lays out so convincingly that we will find you from the ground and pay you, no matter where you are, in any country in the world. Oscar is in the studio.
update 08.07.2023
Meanwhile, a comment from the vice-president of the Association of Tour Operators of Russia Artur Muradyan:
"We have no information that it was a "tourist" (and especially a Russian one) who died.
— The incident, according to the scant available data on Google (which is suspicious, there is not a single news about it), occurred on the public Dream Beach in Hurghada, and during a time prohibited for swimming.
— According to our information, at the moment the Egyptian authorities have not yet announced the closure of any swimming beaches in Hurghada, nor have they officially confirmed or commented on this incident.
— Let us note that the last incidents with sharks in the Red Sea were more than a year ago, and they were more serious. However, in this case we did not see a sharp drop in demand.
Fuck level: ATOR
update 31.08.2023
What happened was small, but by our standards — an invasion of users from sunny Azerbaijan, it turned out that the article below contains a link to our site, an error, a coincidence…? To Azerbaijan and Armenia of the world, as well as to all countries of the world.
"Fun&Sun" tur-operatoru erməni şirkəti ilə əməkdaşlıq edir? — Does the tour operator "Fun&Sun" cooperate with an Armenian company? 
Tour operator Fun&Sun cooperates with the Al Khalidia company, owned by Armenian-born entrepreneur Sirak Muradyan in the United Arab Emirates. Tourists traveling from Azerbaijan to the UAE were met by guides from Fun&Sun or Al khalidah. This information was still kept secret on the tour operator's website, and not a single travel agency knew about it.
Payment for the tours went into Sirak Muradyan's pocket. In addition, we note that when booking, foreign passports of Azerbaijani citizens, that is, their data, were also automatically transferred to this company.